Over the years I've had the opportunity to work with Tulsi Gabbard through a non-profit organization called Mens Health Network. Every year they do a Workout at the State Capitol for Mens Health Month which is led by Congressman Markwayne Mullin (OK) and includes several other congressmen and women, which at the time included the likes of Tulsi Gabbard and Kristi Noem. With her growing celebrity due to her Presidential run, and my experiences with her I thought I'd make a video about some Little Known Facts regarding her life. She is a woman of many firsts as you'll see in the video which I was not aware of. For instance, she was the first female to graduate with honors from the Alabama Military Academy. She was also the youngest women ever elected to the Hawaii state legislator at 21 years old. There are so many fascinating details of her life I discovered when researching her. I know, from filming her, that she is the real deal. What you see on the TV seems to be who she is in real life. Check out below the 7 Little Known Facts about Tulsi Gabbard!
Get your "Aloha 2024" Tulsi Tank Top and T-Shirt 👕 here 👉 https://danglinn-productions.creator-spring.com/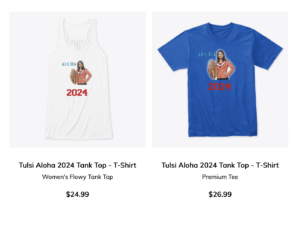 Please Subscribe to our YouTube Channel for more videos about Tulsi Gabbard!